Tibetan Buddhist Mantra Ring (Spinner Ring) Om Mani Padme Hum

Spinning the written form of the mantra around in a Mani wheel (or prayer wheel) is believed to give the same benefit as saying the mantra, and Mani wheels, small hand wheels and large wheels with millions of copies of the mantra inside, are found everywhere in the lands influenced by Tibetan Buddhism. This Ring accomplishes the same benefit of spinning the prayer - the equivalent of repeatedly vocalizing the mantra.

Inscribed with the Buddhist Om Mani Padme Hum
Stainless Steel Spinner
Spin the ring to send the prayer out into the universe

Great holiday gift/stocking stuffer!

Available in sizes 6-12
Gallery
Description
Ring Sizing Guide
Decoder Ring Policies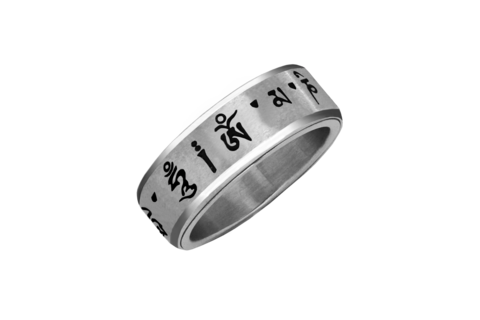 Tibetan Buddhist Mantra Ring (Spinner Ring) Om Mani Padme Hum

Spinning the written form of the mantra around in a Mani wheel (or prayer wheel) is believed to give the same benefit as saying the mantra, and Mani wheels, small hand wheels and large wheels with millions of copies of the mantra inside, are found everywhere in the lands influenced by Tibetan Buddhism. This Ring accomplishes the same benefit of spinning the prayer - the equivalent of repeatedly vocalizing the mantra.

Inscribed with the Buddhist Om Mani Padme Hum
Stainless Steel Spinner
Spin the ring to send the prayer out into the universe

Great holiday gift/stocking stuffer!

Available in sizes 6-12
Paper Measurement Method using a Finger Size Strip
An easy way to find the desired ring size is to print and cut out the diagram below. Please make be sure that your printer is set to 100%. Also, be sure that you have not reduced the print size in your printer 'page setup' area. You can verify that the ring sizer printed correctly by measuring it with a ruler As shown, the distance from A to B must be 3 1/2 inches long.
Insert the narrow end of the sizer through the "cut here" slot. With numbers on the outside, place the loop around your finger, and pull until the fit is snug but comfortable.
Once you have printed the ring size strip, please follow the following steps to find your ring size:
Cut out the Finger Size Strip
Cut a slit for Slot "A" as shown.
With numbers facing outward, wrap the Finger Size Strip around the finger where the ring will be worn.
Gently slide the pointed end Tab "B" through Slot "A" until the strip is snug, making sure to allow size for the knuckle.
The number aligned with Slot "B" is your ring size.
If the measurement falls between two numbers, your size is a half size For example, if the Finger Size Strip is between the 4 and 5, your ring size is 4.5 or 4 ½. If half sizes are not available, order the next largest size.
*Please note that the Paper Measurement Method is just one way to determine your ring size. To make certain that the Puzzle Ring ordered is the correct size, we always recommend having your finger measured by a professional jeweler.
Decoder Ring Policies
Quality of our products have a 100% guarantee
We will process your purchase exactly how your order was placed. Please double check your ring size prior to submitting. We are not responsible for ordering errors.