Due to this Puzzle being crafted as a limited edition or run, it is no longer available for sale. Regrettably we do not think it will be back in stock. Please view our other hard to find puzzles on our Karakuri Trick Box Page.

Created in October 2006

Made of Shiuri Maple and Walnut

Measures* 3.07 x 2.44 x 2.40 inches
Gallery
Description
About Measurements of Japanese Puzzle Boxes (Suns and Steps)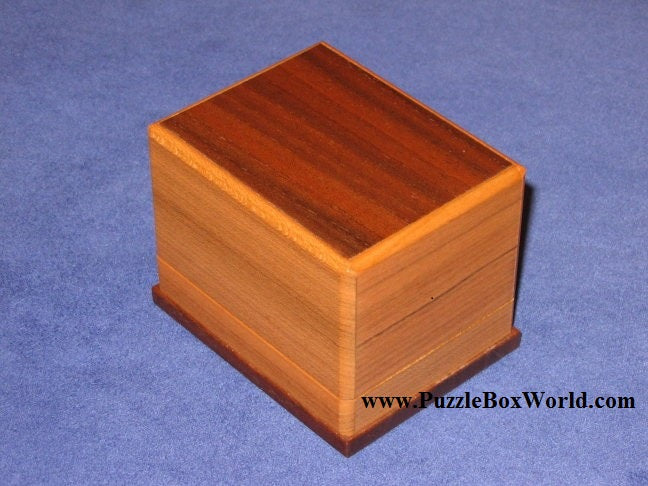 Due to this Puzzle being crafted as a limited edition or run, it is no longer available for sale. Regrettably we do not think it will be back in stock. Please view our other hard to find puzzles on our Karakuri Trick Box Page.

Created in October 2006

Made of Shiuri Maple and Walnut

Measures* 3.07 x 2.44 x 2.40 inches
About Japanese Puzzle Boxes and Care of Your Puzzle Box
Japanese puzzle boxes are highly collectible. They are beautiful, functional and intriguing. Our wide selection and affordable prices will make it easy for you start or add to your collection of Japanese puzzle boxes.

Traditional Japanese puzzle boxes can be relatively simple to very challenging and almost impossible to open unless you follow the exact step by step procedure designed specifically for the particular box. Original instructions are included with all of our Japanese puzzle boxes, secret boxes, and trick boxes. Often these instructions or diagrams are in Japanese, but they are illustrated and easy to follow.

To solve a puzzle box, one or more sliding parts in one end are moved, allowing the other end to be moved slightly. This partially unlocks a side panel, which allows other pieces to be moved. These, in turn, partially unlock the top or bottom. This method is continued, moving around the box, until the top panel can slide, opening the box. Some of the more expensive boxes may allow both top and bottom panels to open, or have other secret compartments or drawers within. Interestingly, Puzzle Boxes have no lock and seemingly no opening. However, each box crafted includes very tricky mechanism(s).

Most Japanese personal secret boxes have a variety of difficulties, ranging from 4 to 66 moves. A few large puzzle boxes have exceptional numbers of moves, such as 78, 122, 119, or 125.

Secret Puzzle Box Patterns

 




Saya Pattern

This Maze-like design, crafted in many variations including Kizaya, Jindai Saya and Red Saya to name a few, are very popular among collectors.  Because of the complexity of the pattern, many crafters have difficulty with matchlines of the kannuki, (slides) making it a bit easier to see the opening mechanism of the Secret Puzzle Box.

 Yosegi Pattern

Kuroasa Pattern

Kiasa Pattern

Akaasa Pattern

Hineri Pattern



Sizes of the Traditional Japanese Puzzle Box (Himitsu Bako)

The Hakone, Japan Puzzle Box Creators use the 'sun' system to describe the size of a traditional puzzle box. "Sun" is a traditional Japanese unit of measure to denote length. The translation of Sun to a length that we can relate is that 1 Sun is about 30.3 mm or about 1.22 inches. This system is used to describe the approximate size of Hakone, Japan Puzzle Boxes. Note that the sun system does not describe the width or height, or the size of the inside compartment.

We consider Mini Trick Boxes, 1 & 1.5 sun boxes to be miniature (mame). 2, 2.5, and 3 sun boxes are small boxes. 4 sun boxes are medium size. 5 sun is the standard size. 6 sun is large. And 7 sun is very large.

 

 

Measurements and "Sun" Sizes in Inches

Small

Boxes

1 sun = 1.22

1.5 sun = 1.83

2 sun = 2.44

2.5 sun = 3.05

3 sun = 3.66

 

Medium Boxes

4 sun = 4.88

5 sun = 6.10

Large Boxes

6 sun = 7.32

7 sun = 8.54


How to Care for Japanese Puzzle Boxes... Since Japanese puzzle boxes are intricate works of art and are made from exotic woods, Here are some things to keep in mind to insure that you are able to enjoy each Himitsu Bako for many years.

Avoid areas of high humidity and high temperature. To clean, wipe the surface with a clean dry cloth. Do NOT use abrasive cleansers. DO NOT drop or allow impact to the box. NEVER force pieces to move.